LAS VEGAS REAL ESTATE
SPECIALIZING IN LAS VEGAS SELLER REPRESENTATION
THE MYERS TEAM
Las Vegas Listing Agents
Las Vegas homeowners have been through a lot these past few years. Many found themselves in homes worth less than what was owed on the mortgage, however, the Las Vegas Real Estate market has drastically changed. Your home may be worth MORE than you think.
If you have equity in your Las Vegas home and are considering a traditional sale, The Myers Team has the knowledge, skill and experience to get your home SOLD.
For the past two decades, Bill and Francoise Myers have been top-grossing Real Estate agents in the ultra-competitive market of Las Vegas, Nevada, and its adjacent neighborhoods, such as Summerlin, Henderson, Green Valley, Spring Valley, North Las Vegas, Southern Highlands and Boulder City.
The Myers Team has received national recognition by representing the "Who's Who" of Las Vegas, including Casino Executives, Numerous Celebrity Chef's, (including the Culinary Director for Bobby Flay), Food and Beverage Vice Presidents, The Inspector General of the United States Air Force, US Department of Defense Executives, Local Business Owners, Developers, Investors, Real Estate Lawyers, Entertainers, Athletes, and Lenders. They have sold over $200 Million in Las Vegas Real Estate, and their experience has given them the "edge" in selling and marketing properties in any price range and under any economic condition. Additionally, from January 1, 2007 to December 31, 2012, The Myers Team successfully sold more short sale listings than any non-lawyer affiliated Realtor or Broker in the state of Nevada. Their hard work and diligence in representing their clientele has made them one of the most respected and sought after Real Estate teams in Nevada.
Our customer service philosophy is simple. When we shop or when we dine, we expect EXCEPTIONAL SERVICE. Why should Real Estate agents be any different? Bill and Francoise Myers have dedicated their career providing that same level of exceptional service for their clients. We believe our clients have the right to receive constant communication and have their questions answered. We return calls and emails the same day. We work evenings and weekends and are always available by phone, text or email. With many top agents competing for listings in the Las Vegas area, the one factor that sets The Myers Team apart from others is relationships. No real estate team networks harder both nationally and internationally as The Myers Team. Their connections, marketing, advertising, web presence and overall old-school relationships help sell homes, plain and simple. It is popular today to talk about how many Facebook fans and/or Twitter followers an agent has, but these attributes are not what gets homes sold. Relationships sell homes, and Bill and Francoise Myers lead in this category.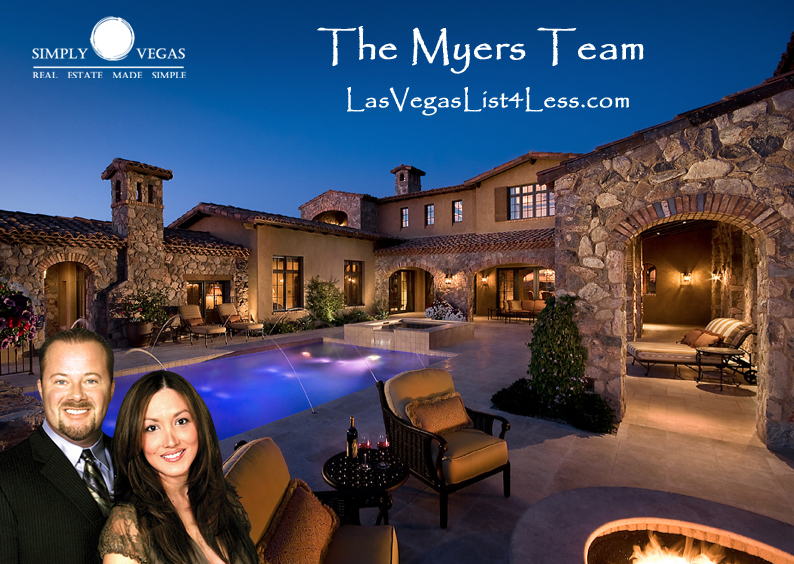 Las Vegas Real Estate Has Changed. Most Brokers Have Not
As with most things, the Internet has changed the way people do business. Today's Real Estate Market is no exception. Before the Internet, Open Houses, Yard Signs, flyers and newspaper ads were used by Realtors to market properties, however, technology has changed the way Buyers search for homes. Today's Buyers are NOT driving around random neighborhoods looking at For Sale signs. Instead, they are searching online, using iPhones, iPads and computers to find their dream home. According to the National Association of Realtors, over 90% of homebuyers begin their search online, visiting sites such as Realtor.com, Zillow and Trulia. Additionally, the majority of people who buy homes in Las Vegas come from out of state. How is an Open House going to attract a Buyer from Canada, New York or Hawaii searching online for homes? Hiring an agent who relies on Open Houses as their primary marketing strategy is like hiring an accountant who uses a "Slide Rule" to do your taxes.
What's My Las Vegas Home Worth?
MOST agents will advise you NOT to price your home above market value, however, if everyone subscribed to this philosophy, home values would NEVER appreciate. As a Real Estate Agent, our job is to aggressively market your home and find a Buyer willing to pay the highest price. If your home is well taken care of, and has the right upgrades, there are many Buyers willing to pay top dollar.
Pricing a home "above the comps" may cause problems with the appraisal, however, this is why you hire an experienced agent who specializes in Seller Representation. When you price a home high, you don't enter into contract with a Buyer who "barely qualifies" for financing. Instead, you look for either a cash Buyer or a Buyer who will be making a minimum down payment of 20 to 50 percent, so the amount financed will not create problems with the appraised value of the home.
If an agent hesitates pricing your home high, are they really looking out for your best interest, or simply looking for a quick paycheck? Additionally, if you interview an agent, and they try to talk you down in price (showing you fancy charts, graphs and reports) be very careful. Wouldn't you rather work with a Real Estate professional who is at least WILLING TO TRY and get you top dollar for your home? In our experience, the agents who are hesitant to list your home for top dollar are typically the same agents who rely on Open Houses to get homes sold. If you choose an agent whose marketing plan is tying balloons to a few signs and placing them around the neighborhood hoping a Buyer might "happen to be driving by," then you've hired the wrong person. You simply can't get top dollar for your home using an agent unfamiliar with today's technology.
To see recent comps for your Las Vegas home, click the following link: WHATS MY LAS VEGAS HOME WORTH?
Get Your Las Vegas Home Listed On Zillow and The MLS
Any agent can place your home in the multiple listing service (MLS), however, your local multiple listing service is only accessible to licensed real estate agents within your community. Doesn't it make sense to utilize a marketing plan that targets Buyers in addition to agents? To sell homes for TOP DOLLAR, your home needs exposure locally, nationally and internationally to the largest possible pool of Buyers.
In addition to the MLS, Myers Team listings are featured on top real estate web sites with professional photography and colorful virtual tours. Zillow reports that more than 50 percent of traffic to their sites comes from mobile devices. Therefore, an effective marketing plan must include a way for your home to be showcased visually on the top sites frequented by these Buyers, and accessible using mobile devices. When you list your home with The Myers Team, home shoppers will be able to find your listing online, including the Zillow web site and mobile apps. If all you're looking for is a sign in your yard and an MLS entry, then ANY agent will do. When you need to trust an industry leader to get the job done, schedule a meeting with The Myers Team. Don't trust the marketing of your home to an agent who relies on outdated and ineffective marketing strategies. Today's home Sellers demand more and deserve higher standards when working with a real estate professional.
Top 20 Real Estate Web Sites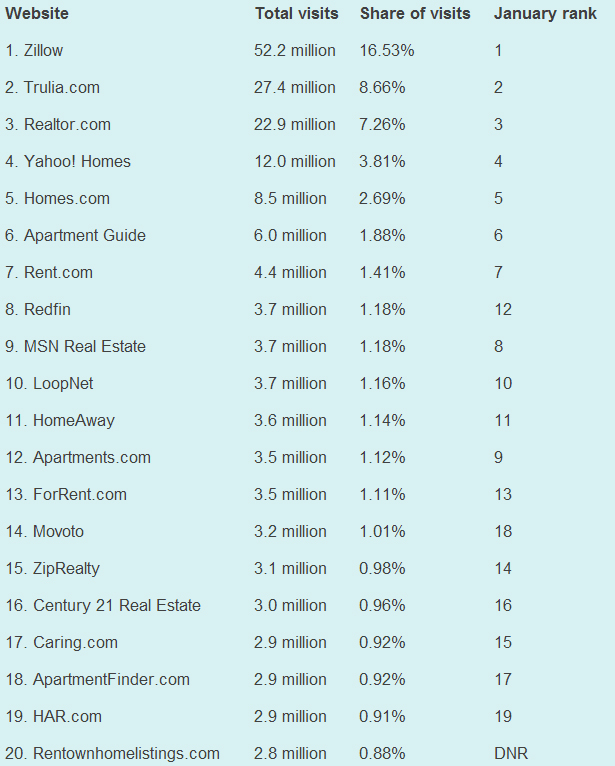 Source: Experian Marketing Services. February 2014
Think Twice Before Using Yard Signs and Open Houses
Many people think the first step to sell a home is to put a "FOR SALE" sign in the front yard. What are the advantages and disadvantages of using a sign? While yard signs attract attention, it's not always the type of attention you want. Are you prepared for random knocks on the door (both day and night) from strangers (unaccompanied by Realtors) asking to view your home? Nobody wants to get surprise visitors when you're in the shower or getting the kids ready for bed. Additionally, how do you know if the people knocking on your door can actually afford to buy it, or have been pre-qualified by a lender? Maybe they're not serious homebuyers at all. Could they be viewing your home and planning to rob it later? What can you do to protect yourself?
Unlike most Realtors, we actually advise against putting a FOR SALE sign in the front yard. We'll be more than happy to install one if our clients request it; however, Yard Signs and Open Houses DO NOT sell homes. We feel that anyone who wants to see your home should make an appointment to view it. Let's face it, your home will show better if you have some advance warning to clean up the dishes in the sink or pick up the clothes on the floor. Unannounced showings are great for model homes being sold by new home builders; however, those homes are not lived in by actual people with jobs, kids, pets, etc.
Our team has sold over $200 Million in Las Vegas Real Estate. We believe that your home should not be opened up to complete strangers, unless they have been pre-qualified by a lender and are accompanied by a licensed Realtor. The importance of safety cannot be overlooked.
Las Vegas Open House Safety Concerns
Open Houses offer many of the same safety concerns as Yard Signs. During an Open House, agents place numerous signs around the neighborhood, with the goal of attracting anyone and everyone who might happen to be driving by. Unfortunately, the majority of people who show up are nosy neighbors.
There is typically no screening process regarding who enters your home. Do you really want complete strangers walking through your house, using your restrooms, going through your medicine cabinets, opening closet doors and looking through your stuff? Many times, the Realtor hosting the Open House is pre-occupied talking with visitors, while others walk around your home unsupervised. Is the agent who is hosting the Open House checking any type of identification before allowing strangers access to your home? Maybe this sounds a little overprotective; however, you can't be too careful when it comes to protecting your family and your valuables.
When a Buyer works with a Real Estate Agent, the agent will contact you and schedule an appointment to view your home. Additionally, the Buyer first meets the Realtor at their office, where the agent will make a photocopy of the Buyers Driver's License or Identification Card. This is a safety precaution encouraged by most Brokers for both the safety of the agent, and the homeowner. If a potential criminal is pretending to be a Buyer, they will likely think twice about committing a crime if they are required to provide photo ID before viewing homes. Unfortunately, this safety precaution rarely happens at Open Houses. Instead, the people who show up are often complete strangers unaccompanied by a Realtors.
Just like the song, "Video Killed The Radio Star," the "Internet Killed The Open House." You are probably reading this because you found our web site on the internet. The Myers Team has the best online presence over any Brokerage in Las Vegas. Our listings are advertised (with professional photography and virtual tours) on top Real Estate web sites such as Zillow, Realtor.com and Trulia. Additionally, we utilize social networking tools such as Facebook, Twitter and YouTube, and have a network of more than 50 Top Ranked Real Estate websites to promote our clients' listings on search engines throughout the Internet. If 90% of homebuyers begin their search on the Internet, then this is where your home needs to be.
Our Internet marketing is so powerful, it's like having an Open House 24 hours a day...7 days a week. No other Real Estate team in Las Vegas has the knowledge or the ability to market your home like The Myers Team.
Beware Of Las Vegas Discount Real Estate Brokers
So you've decided to sell your home and hire a Real Estate Broker to assist you. Which agent is the best choice? Is it the one who charges the lowest commission or the one who says your home is worth the most money?
It's tempting to be impressed by the agent who offers to list your home for the highest price, however, BE VERY CAREFUL. Some agents may agree to overprice a home and offer to work for reduced commission for a variety of reasons: First, they know if they tell you what you want to hear, you'll likely hire them, and second, the longer your house sits on the market, the more money they stand to make.
What many Sellers fail to understand is there are some agents out there who know how to make thousands of dollars from your home, WITHOUT EVER SELLING IT.
For example, when you hire a Real Estate Broker, one of the first things they'll suggest is to install a FOR SALE sign in the front yard. The sign becomes a billboard for your Broker, and a great way to advertise their services to your neighbors. Additionally, yard signs generate a steady stream of calls from prospective Buyers, which allows a smooth talking listing agent the ability to find homes for each Buyer (not necessarilly yours)
Additionally, many Brokers recommend having an Open House each weekend. Who benefits from the Open House? You or your Broker? An Open House allows your agent the opportunity to set up a "remote office" in your living room, so they can have a "networking party" with your neighbors. Additionally, it's a great way for agents to meet people who happen to be driving by. Your Broker will be thrilled to place "OPEN HOUSE SIGNS" (with their name on each sign) around your neighborhood. (More free advertising for them...but unlikely to sell your home)
While Open Houses and Yard Signs clearly benefit Brokers, the fact remains that Sellers hire us to sell THEIR home...not to use their house as a base camp in order to advertise our services and pick up new clients.
These days, it seems everywhere you look; there are advertisements from Discount Real Estate Agents who promise the moon and the stars, yet don't necessarilly deliver. While Real Estate commissions are negotiable and there is no fixed or standard commission, you should remember the old expression, "You Get What You Pay For." Additionally, if an agent markets their services by being the cheapest option, will they utilize the same strategy to sell your home? Quality attracts quality. If you want top dollar for your home, you need an experienced professional who knows how to utilize technology and deliver results. Additionally, you need an agent with integrity who can be trusted. This is why you need The Myers Team. When you hire The Myers Team, our number one priority is to SELL YOUR HOME. YOUR NEEDS will ALWAYS come first.
What Are Hidden Broker Fees in Las Vegas?
Why Overpay To Sell Your Home When You Can Get BETTER SERVICE and BETTER RESULTS for LESS?
Several years ago, many of the "Big Name Real Estate Companies" got together and decided to give themselves a raise. They called this raise a "transaction fee" and they are expecting YOU to pay it! These transaction fees are being charged IN ADDITION to the real estate commission to maximize profits. Additionally, these transaction fees (sometimes referred to as document fees, storage fees, compliance fees, etc.) usually range between $400 to $700 and more. While these fees are legal, the fact remains that many Brokers believe they deserve these fees and they should come out of YOUR pocket.
Why do most of the "Big Name Brokers" charge transaction fees? What exactly are you getting for your money? According to NRS, Real Estate Brokers are required by law to save the paperwork from each transaction for several years (the length of time required for each state is different.) Brokers charge these fees to offset the expense for storing these documents, however, most Brokerages are now "paperless" which means they have the ability to scan paperwork and store it electronically on an external hard drive. Does it really cost this much money to store a file consisting of 100-200 pages? Even the most expensive external hard drive costs less than this, and can store thousands of files.
The Myers Team will NOT charge you any of these transaction fees to sell your home. In fact, when you hire The Myers Team, you get full service representation for less money out of your pocket. We have listing packages designed to fit every household budget. Why overpay to sell your home when you can get BETTER SERVICE, BETTER MARKETING and BETTER RESULTS for less? When interviewing Realtors to sell your home, ask them how much their Broker charges for transaction fees and have them explain in detail what the fees are for. Homeowners need professional representation, not extra fees. Beware of the fine print!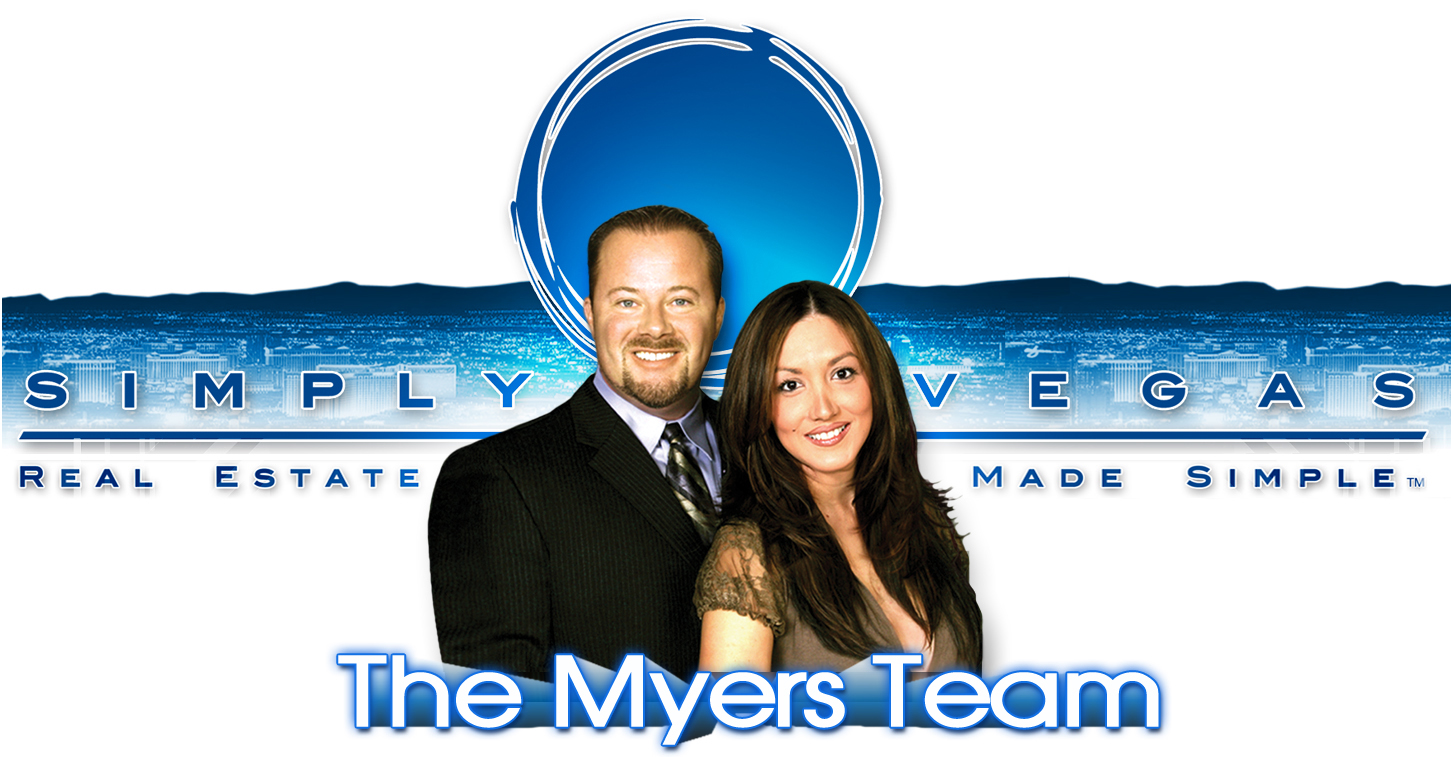 Myers Team Las Vegas Listings Include:
Full Service Seller Representation
Your property will be listed in the Multiple Listing Service (MLS)
Photoshop Enhanced Color Photography on all listings.
You will work DIRECTLY with Bill and Francoise Myers. We do NOT hand off your listing to less experienced, junior Realtors.
You will be able to communicate with Bill and Francoise Myers 7 DAYS PER WEEK via email, text, or phone. Additionally, our office staff works evenings and weekends.
Full color virtual tours.
Virtual tours and photos will be uploaded to the Internet.*
You will have the ongoing ability to see how many people have viewed your virtual tour...anytime you wish, 24 hours a day, 7 days a week.*
Our Internet marketing is the best in the business. Today's Buyers are not driving around looking at "For Sale" signs. They are online. Your listing will be advertised on virtually every major Real Estate Web Site (Realtor.com, Zillow, Trulia, Craig's List, You Tube and many others)
Your MLS listing will be PROOFREAD, SPELL-CHECKED and the directions to your home will be accurate!
We will not inconvenience you with Open Houses unless this is something you request. Why would we let complete strangers into your home unless they've already been pre-approved with a reputable lender and CAN AFFORD TO BUY IT? Your safety and security come first.
We ALWAYS request that agents make appointments with YOU before showing your home. Nobody will be coming into your home unannounced while you're sleeping, in the shower, etc.
We're from Las Vegas. WE GET IT! We understand your needs might be different, and you might work nights, weekends, or possibly have a "unique job." We are here to represent YOU and work around your schedule. We are technology savvy and can do almost everything via email, or come to your place of work if necessary. WE WORK FOR YOU.
We will aggressively negotiate the highest sale price and best terms. Remember...The Myers Team have been Las Vegas #1 Short Sale Realtors * for the past 8 years. Dealing with Banks is not an easy task. We KNOW how to negotiate!!!
We will fulfill any reasonable request and attempt to meet any special need you may have. Just let us know your expectations...and allow us to EXCEED them.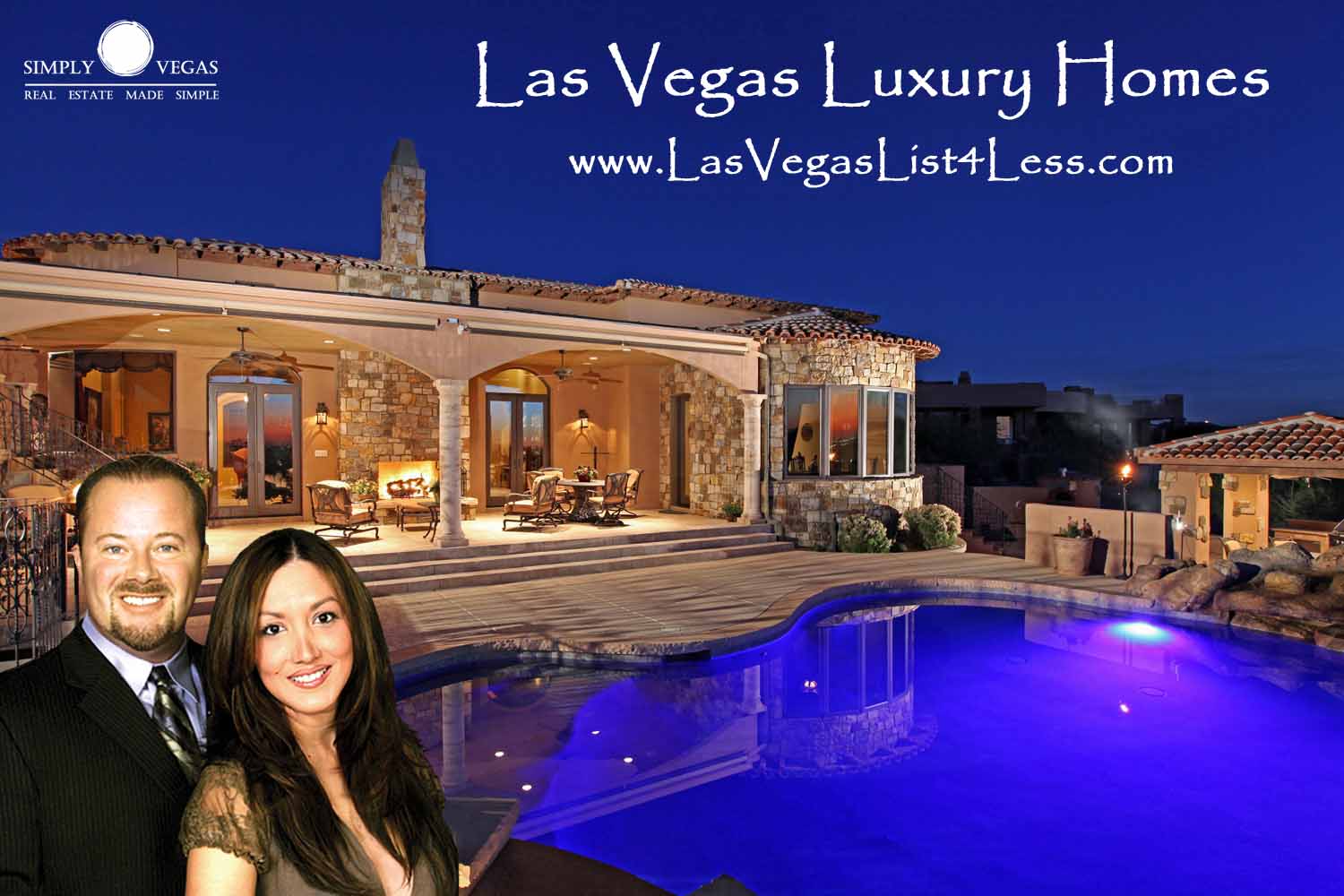 The Importance of Real Estate Photography
We've all heard the expression, "A picture is worth a thousand words." This is especially true in Real Estate.
If you've recently searched online for homes, you're probably aware of the poor quality of most Real Estate photographs. Sadly, many of these photos are taken by Realtors working for "Big Name Brokers" who are charging top dollar to sell your home. If you were trying to sell a car, wouldn't you wash the car, vacuum it and wax it before taking pictures. Why is selling a home any different? The majority of online Real Estate photos are so dimly lit you can't tell how big the rooms are...or there are toys and clutter are all over the place. How many online photos of homes have you seen where the cars are still in the driveway, or the trash barrels haven't been put away? Couldn't the Realtor even bother to take the dirty dishes out of the sink before they photographed the kitchen? Photographs are powerful bait. Good ones can lure buyers, however, poor ones can do the opposite.
Before the Internet, home buyers relied on Realtors to show them which houses were available, however, in today's world, it's the exact opposite. Home Buyers are constantly searching web sites such as Realtor.com and Zillow using their laptops, iPhones, iPads, tablets and smart phones...and "TELLING" their Realtor which homes they wish to see. Today's Buyers have unlimited access to online information and are more sophisticated than ever.
For a home to sell quickly and at top dollar, it needs to attract as many prospective Buyers as possible. For this to happen, Real Estate listings must have strong visual appeal. There needs to be numerous photos of the property, all of a standard size and superior quality.
The National Association of Realtors reports that "98% of home buyers who searched for a home online said that photos were among the most useful features of real-estate websites." Yet, the vast majority of Real Estate Agents are still using ordinary and amateur photography to bring their clients' Homes to the Real Estate Market.
With all of the competition on the market, it is important to have professional photos because they are your first, and maybe only impression, to the majority of buyers who are searching for homes online. When you hire The Myers Team to sell your home, our professional photography WILL make your listing look better than the competition. Our listings are getting shown more often and many have gone into contract within days...not weeks or months.
Take a look at the "BEFORE and AFTER" pictures below. The "AFTER" photos were taken using the exact same lighting as the "BEFORE" pictures, however a $4000 camera and a professional wide angle lens were used instead of a standard "point and shoot camera." Can you see a difference? When you hire The Myers Team to sell your home, you can expect top of the line photography, maximum Internet exposure and a marketing plan that far surpasses the competition.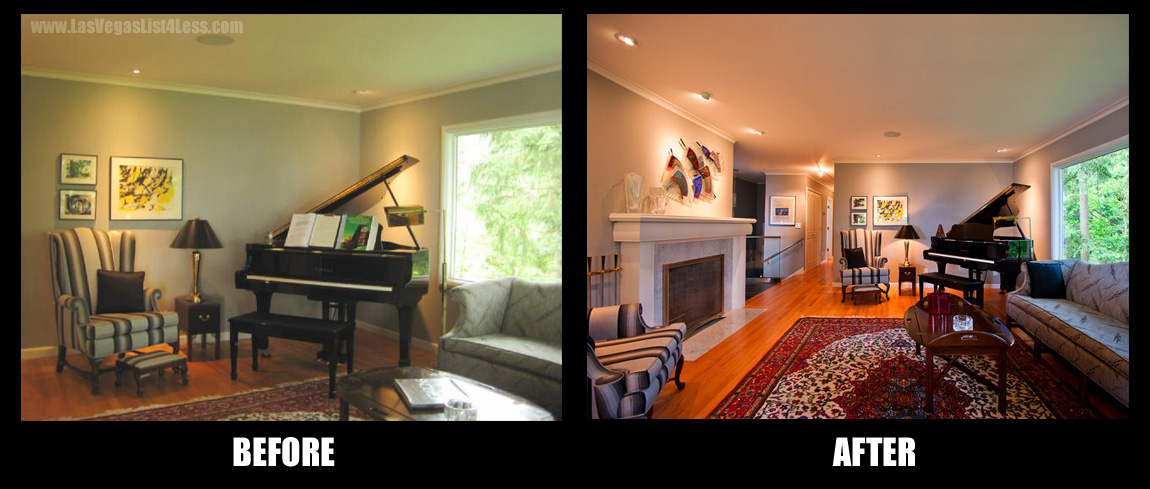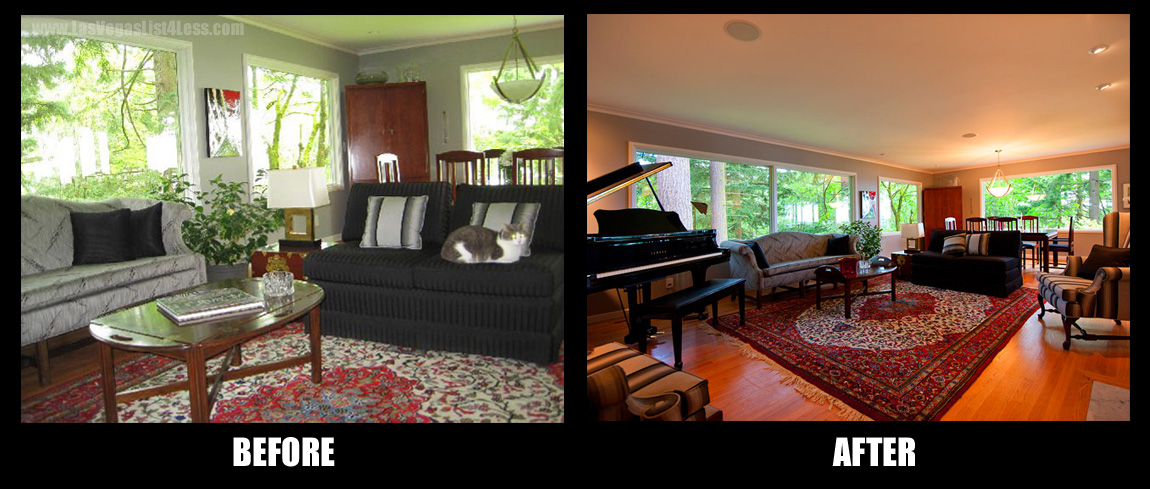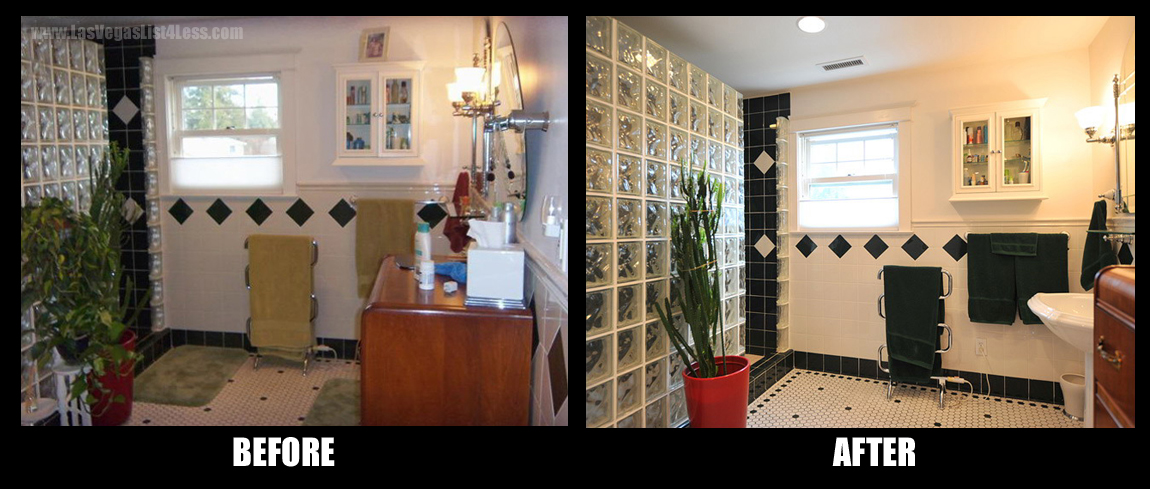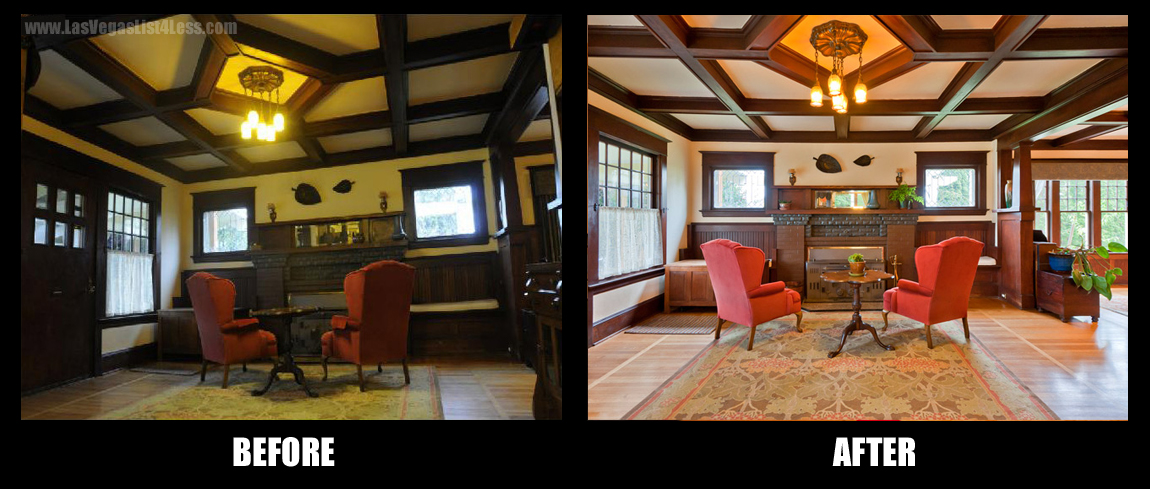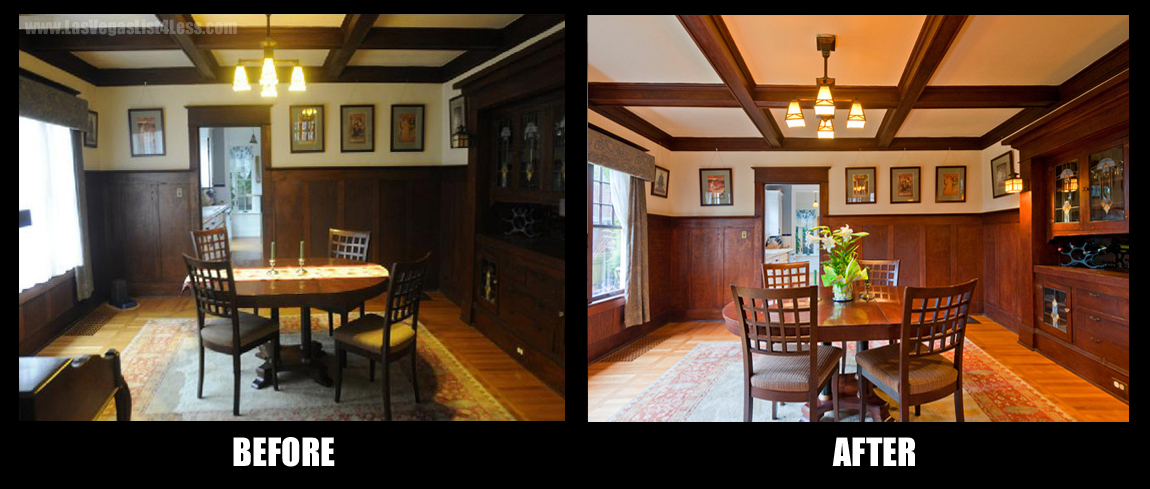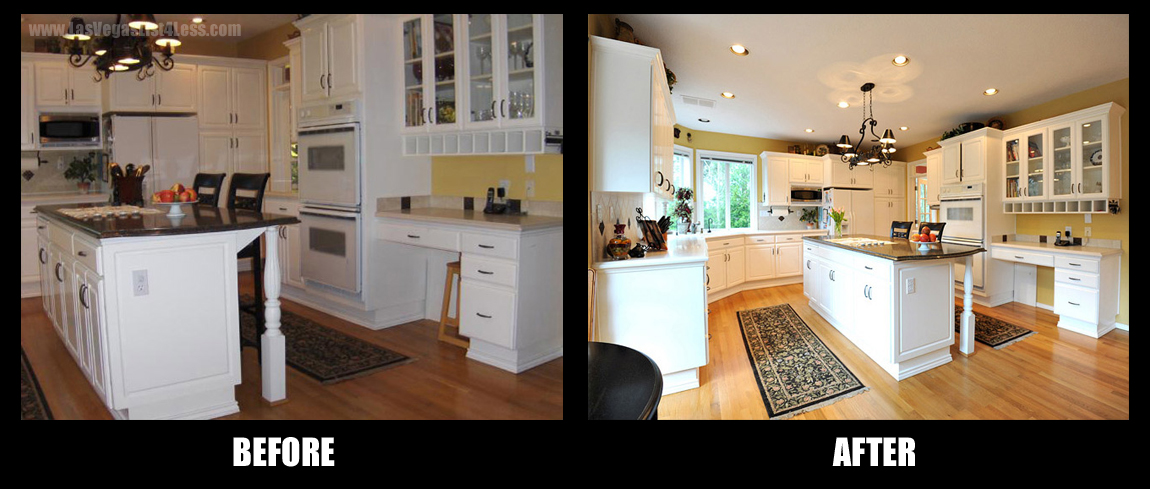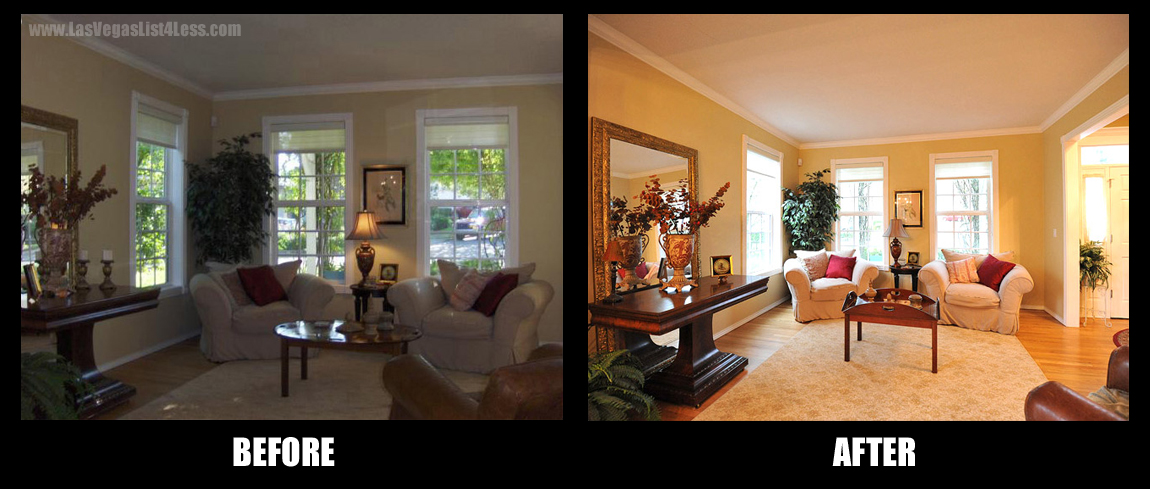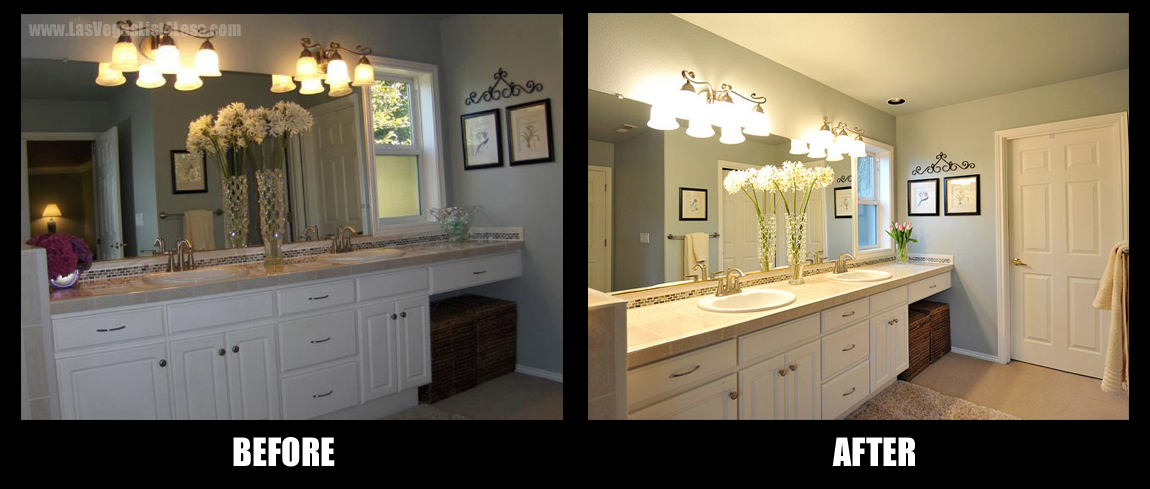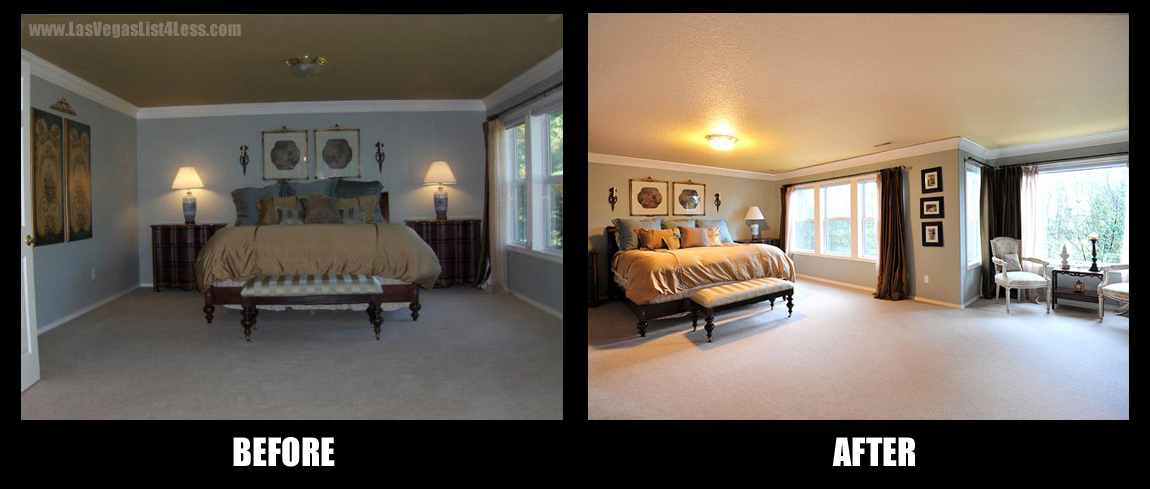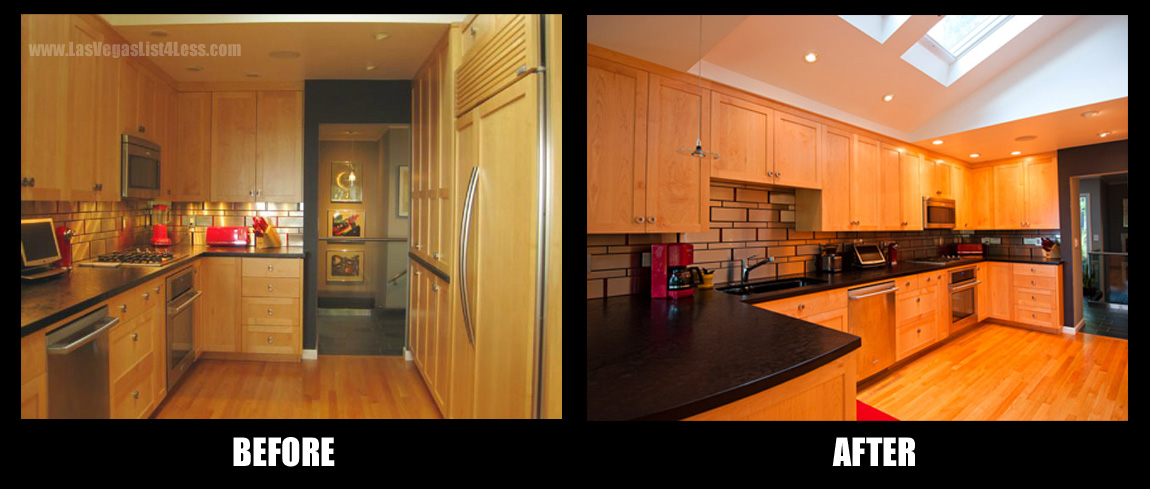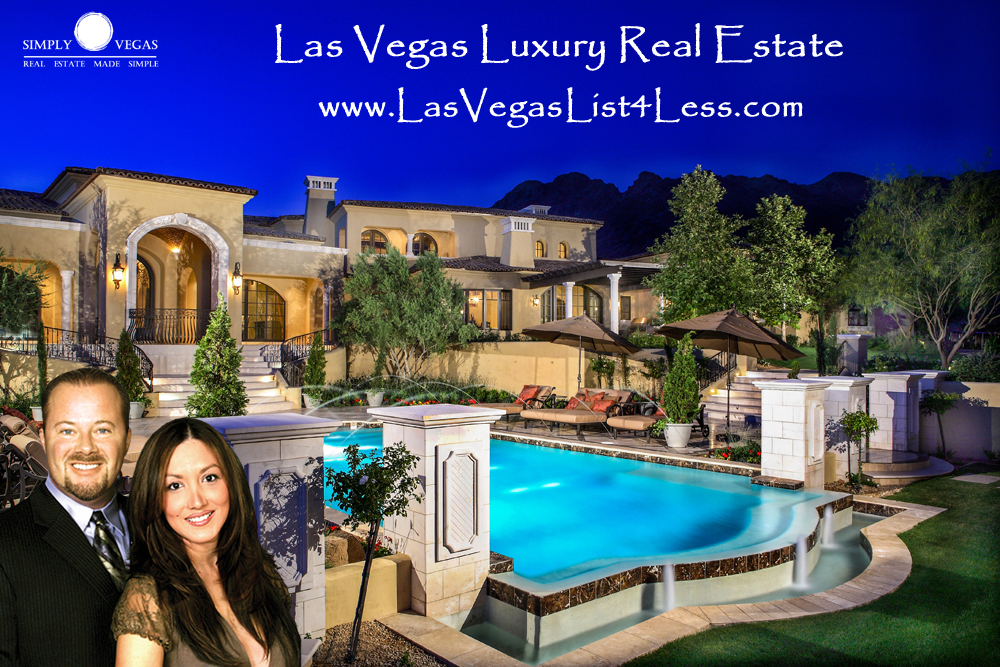 The Myers Team are Las Vegas Top Real Estate Agents
Choosing the right person to sell your home is one of the most important steps of the selling process. Therefore, it's important to choose wisely. How do you find the right person to sell your home? Should you hire the company with the most billboards around town, or the person with the most commercials on the radio or TV? Wouldn't it make more sense to choose a Real Estate team who has successfully closed hundreds of transactions in the Las Vegas market?
The Myers Team is nationally recognized as one of the most influential figures in Real Estate today and some of the toughest negotiators in the business. When it comes to selling Las Vegas Real Estate, RESULTS speak louder than words. Bill and Francoise Myers, owners of The Myers Team, have sold over $200 Million in Las Vegas Real Estate, including both traditional and short sales. Additionally, from January 1, 2007 to December 31, 2012, The Myers Team successfully sold more short sale listings than any non-lawyer affiliated Realtor or Broker in the state of Nevada. These record breaking sales are proof positive that our marketing strategies continue to find Buyers locally, nationally and internationally in our Las Vegas market. The Myers Team have the credentials, expertise, skill and integrity to negotiate the highest sale price and offer the best Seller representation available.
Here are some things you can expect working with The Myers Team.
Honesty and Credibility
Our clients are people who share our community. Their kids might go to school with our kids, or play Little League together. We want you to feel that the service we provide is the BEST in the city and the BEST VALUE too. Our goal is NOT to be the most expensive Broker in town, or charge the most fees. Our goal is for you to be so overwhelmingly happy with the service we provide that you recommend us to everyone you know. With The Myers Team, our clients come first. WE WORK FOR YOU.
Communication
Las Vegas is known as a city that never sleeps. This is why you need representation from a Realtor who works full time and has the experience and knowledge to help you. In a city with all-night hotels, casinos, restaurants, pharmacies, markets, etc., you need a Real Estate company who is available to answer your questions around the clock including weekends. The workday for The Myers Team begins at 5a.m. Additionally, The Myers Team work on weekends. Las Vegas is a 24 hour city. Why would you hire a 9 to 5 Broker? We believe our clients deserve frequent updates. Additionally, we believe that phone calls and emails should be returned the same day.
Listing Agents vs Buyers Agents
It's important to know the difference between a listing agent and a buyer's agent. The Myers Team's area of expertise is Seller Representation. A listing agent works for the Seller. They advertise the property and market it to prospective Buyers. Additionally, they assist in negotiations with the goal of protecting the Seller. They get paid when the home is sold and their commission is a percentage of the sale price. The listing agents loyalty is to the Seller.
A Buyer's agent works for the Buyer. A Buyer's agents job is to negotiate the best terms for the Buyer. Additionally, their loyalty is to the Buyer. Buyer's agents spend a large amount of time in their cars, driving people around from house to house. When Selling your home, you should be represented by a Realtor who has the ongoing ability to answer their phone and email, communicating with as many potential Buyers as possible. If the agent you hire to sell your home is driving Buyers around all day, will they have the time to promptly answer their phone calls and emails in order to represent you properly and get YOUR home sold?
Attention
Does your Realtor have time for you? Are they able to answer your phone calls, emails and texts in a timely manner? Do they even know how to get email on their phone? A good Realtor should demonstrate that they are on YOUR side by actively promoting your home. They should call or email you with frequent updates. They should offer suggestions on how to improve your home to make it more desirable. Are they a good listener? Some agents love to hear the sound of their own voice, however, Selling a home is a team effort and they must be able to understand YOUR needs and properly address YOUR concerns.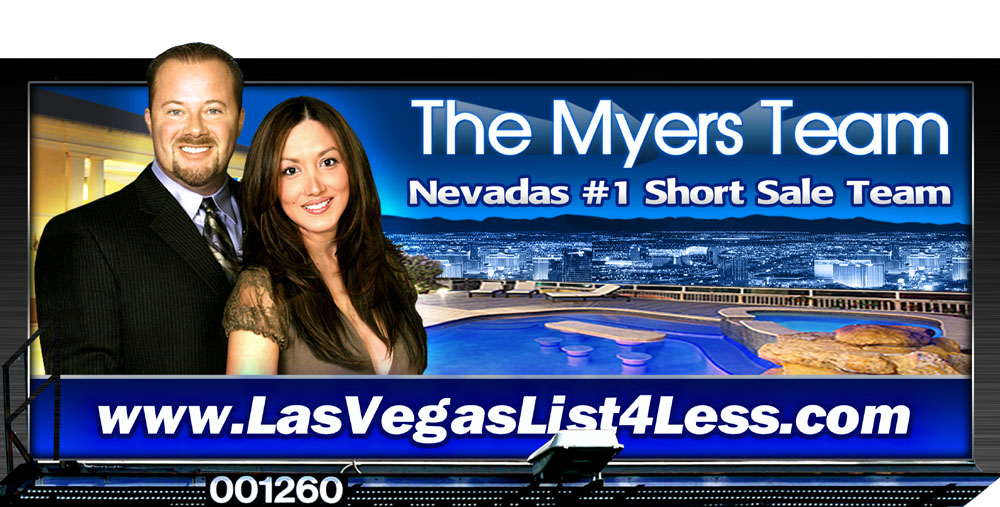 Las Vegas Top Real Estate Agents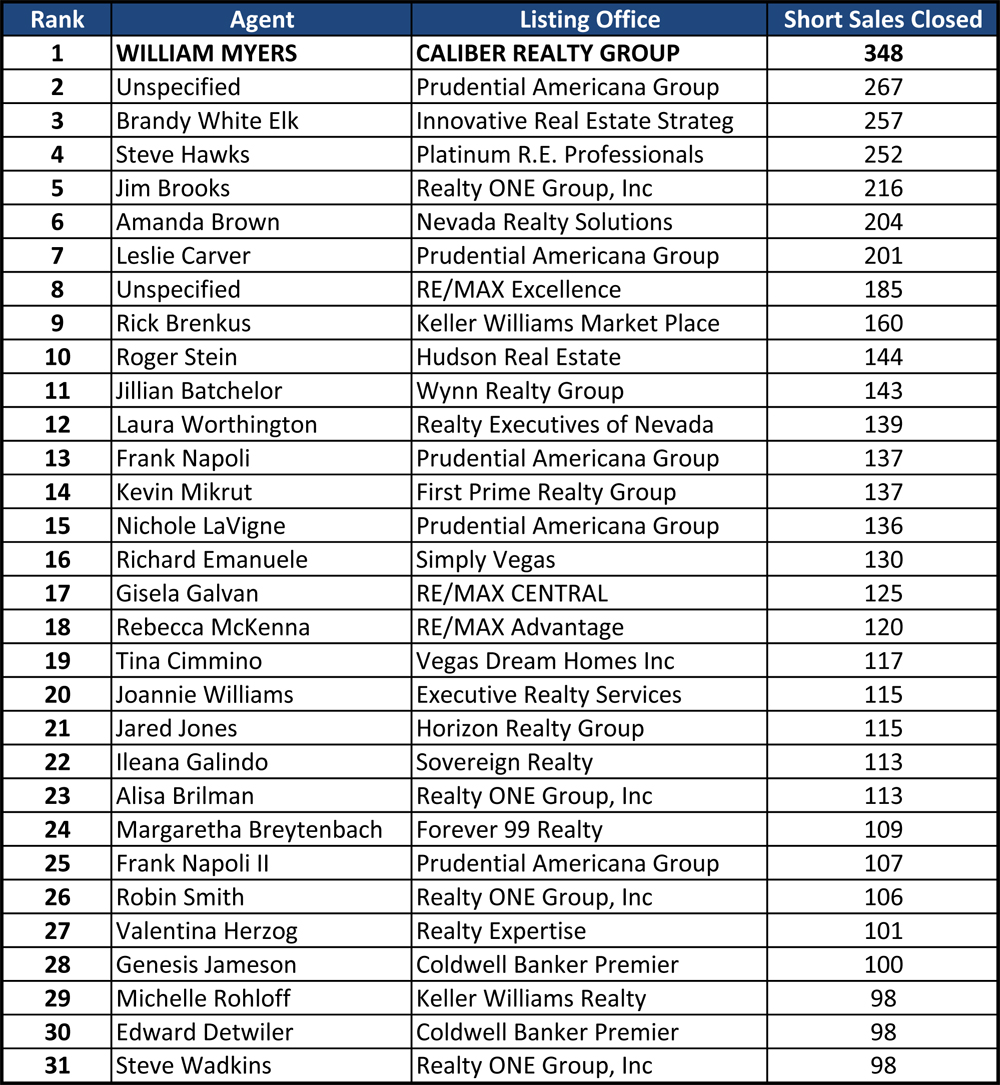 *Above production is based on results from January 1, 2007 through December 31, 2012 (short sale listing ends only from non-lawyer affiliated Realtors and Brokers.) The information provided is obtained from public records, it is deemed reliable but not guaranteed.

Seller Representation in Las Vegas Real Estate
There are many Realtors out there. Who will do the best job for you?
Representing a Seller in a real estate transaction involves much more than negotiating the highest sale price. Did you know that most real estate contracts are designed to protect the rights of a Buyer, NOT the Seller? Each state uses a different real estate contract, and each contract contains numerous safeguards allowing Buyers' the ability to exit the contract without penalty. For example, in a Nevada Real Estate Contract, unless otherwise amended, the contract is contingent upon the Buyer's ability to qualify for financing. This means that on day 29 of a 30 day escrow, after you've hired a moving truck and packed up all your belongings, etc., a Buyer can cancel and back out of the agreement without penalty if their financing falls through. How is this fair to a Seller and who's going to protect the Seller's rights to minimize the chances of something like this happening?
What could cause a Buyer's financing to fall apart? This happens more often than people realize. Since the housing crash of 2008, it has never been more difficult for a Buyer to get qualified for a home loan. Buyers will typically provide a "pre-approval letter" when they submit their offer. Doesn't this mean the Buyer is approved for financing? Unfortunately, many pre-approval letters are worthless. There are some big name lenders out there, who will issue a pre-approval letter based upon a "verbal pre-qualification" over the phone. This is done by asking the potential Buyer questions, such as, "What is your monthly income?" "Do you know your credit score?" "What are your monthly expenses, etc.?" The problem with a verbal pre-qualification is that Buyers don't always disclose all the relevant facts. Until a Buyer completes a written and complete loan application, the lender will not be able to obtain a credit report to verify that the Buyer actually qualifies to buy your home. Here are a few potential "deal killers" that often appear on a Buyer's credit report:
Late payments on credit cards or car loans
Previous foreclosure
Previous repossession of vehicle
Judgments and collections, etc
Seller representation involves much more than simply "finding a Buyer." To represent a Seller, you need to find the RIGHT BUYER…meaning a Buyer willing to pay the highest price AND who has the strongest financing (so the deal doesn't fall apart.) Federal laws make this a difficult task. For example, if a Buyer offers to pay CASH for your home, you have the right to request written proof of the Buyer's cash funds, (to ensure they have enough available cash to complete the purchase) however, if the Buyer is obtaining a loan, you are limited BY LAW, to the types of questions you're allowed to ask.

For example, it's a RESPA violation to ask a Buyer or their lender what a Buyer's FICO score is. Why does this matter? What if the Buyer's loan program requires a minimum FICO score of 640 to qualify, yet the Buyer (who put a list price offer on your home) has a FICO score of only 641? Credit scores can quickly drop for a variety of reasons. Do you really want to enter into contract with a Buyer whose credit score is so low, it could drop during the course of your 30 day escrow and they no longer qualify? Do you want to have all your belongings packed in a moving truck and get a call at the last minute informing you the Buyer's financing fell through?

There are many things that can be done to protect a Seller. You need representation by a Realtor who understands the Seller's rights. Additionally, you need a Realtor who will thoroughly research each prospective Buyer and do everything legally to ensure you're entering into contract under the best terms. Additionally, there are many things that can go wrong in a real estate transaction. Whomever you choose to represent you, it's important they have the experience, knowledge and ability to proactively represent you to get the deal closed.
What If I Have No Equity In My Las Vegas Home?
Do you want to short sale your Las Vegas home without worrying about your lender coming after you for a deficiency judgment?
Are you ready to take advantage of the extension of the Mortgage Forgiveness Debt Relief Act which has been extended until December 31, 2013?
Are you sick and tired of making payments on a home that may never be worth what you paid for it? Have you been turned down for one of those ridiculous loan modification programs?
If you're considering the possibility of doing a short sale, then visit www.NevadaShortSaleInfo.com This web site will provide you with valuable information to help explain your options and answer your short sale questions and concerns. You DO NOT need to be poor or broke to qualify for a short sale. Banks approve short sales when they believe a hardship situation exists, however, hardship is not solely determined by how much money a person earns...it also factors in a person's expenses, especially if expenses have increased and income has decreased.
Additionally, you DO NOT have to pay anyone to do a short sale. A Realtor experienced with the short sale process can obtain a full waiver of deficiency from your lender. How do you choose the right person to short sell your home? Should you hire the company with the most billboards around town, or the person with the most commercials on the radio or TV? Wouldn't it make more sense to choose the Real Estate team who has successfully closed the most short sale transactions in Las Vegas?
A recent report named The Myers Team the #1 Short Sale Realtors in Nevada.* Number one status was determined by actual short sale listings closed by non-lawyer affiliated Realtors and Brokers from January 1, 2007 through December 31, 2012. The Myers Team has successfully closed more short sale transactions and negotiated more short sale approvals than any non-lawyer affiliated Realtor or Broker in our state.
Our resources include a team of experienced short sale processors in addition to direct access to a Nevada licensed attorney. This allows us to stay up to date on the laws affecting short sales, and the rapidly changing guidelines and procedures of banks and their investors. Additionally, our preferred closing company, Lawyers Title of Nevada, has extensive expertise in processing and closing short sale transactions not only in Nevada, but nationwide. The size, strength, and stability of Lawyers Title allows us to leverage their relationships with the major banks to get our files processed in the fastest possible time frame and escalated when necessary.
Nevada's #1 Short Sale Team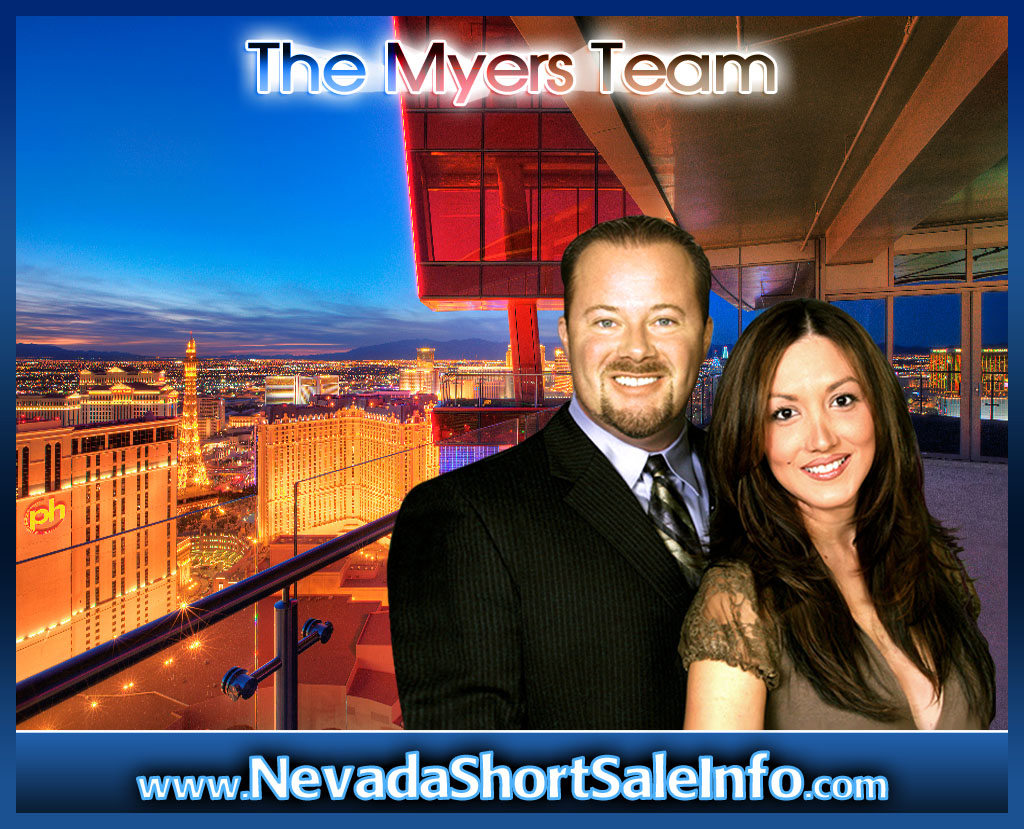 Las Vegas Top Real Estate Agents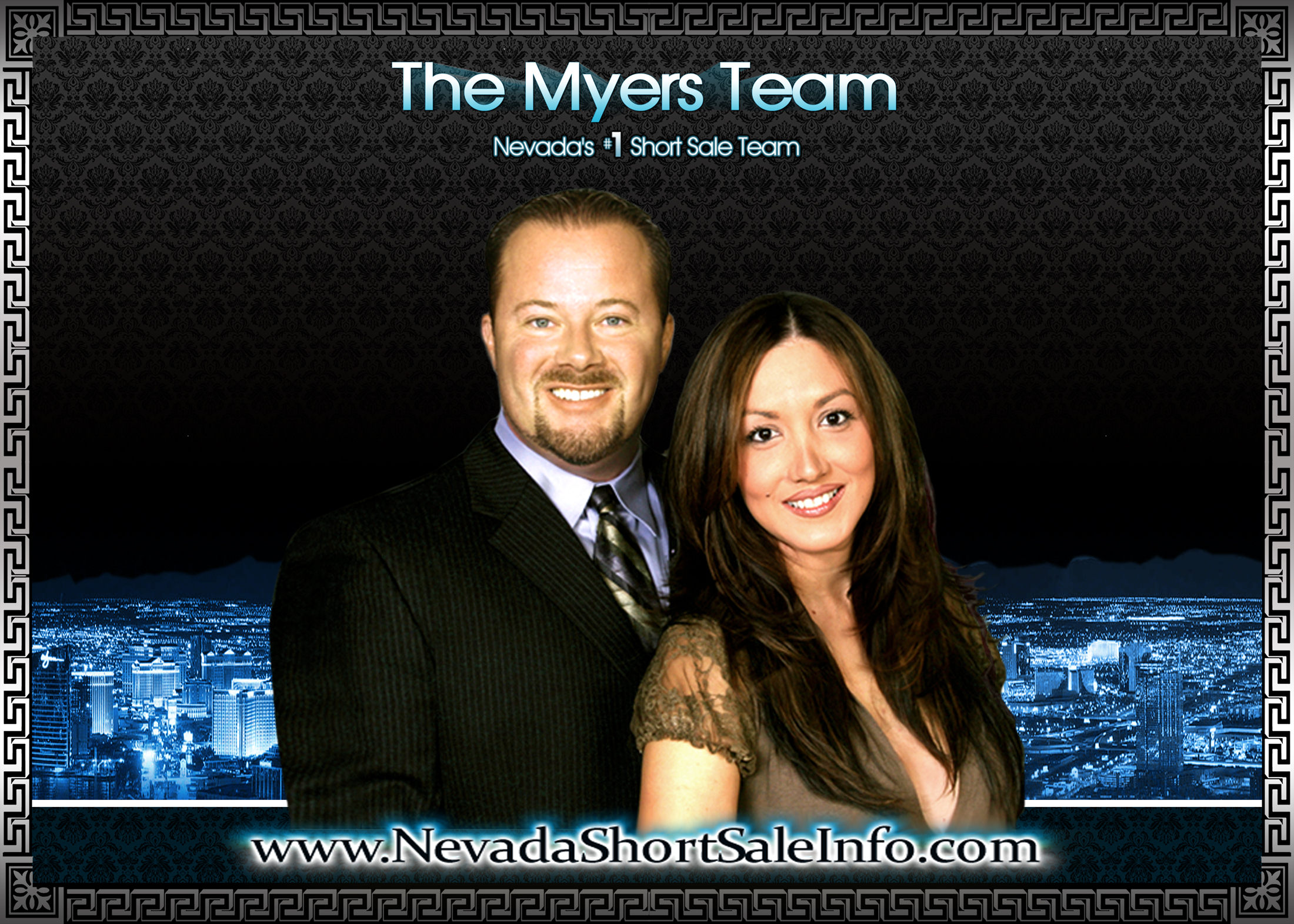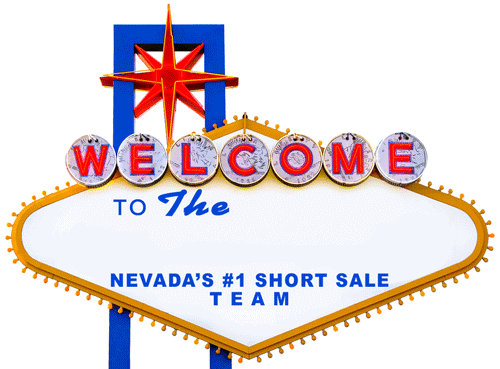 Areas of Las Vegas, NV
Clark County Real Estate

Summerlin Real Estate

North Las Vegas Realtor

Henderson Nevada Realtors

Desert Shores Nevada Real Estate Expert

Red Rock Country Club NV Luxury Realtor

North Las Vegas NV Real Estate

Spring Valley Nevada Real Estate

Queensridge Nevada Luxury Real Estate

Southern Highlands Nevada Real Estate

Anthem Highlands Nevada Realtors

The Ridges Nevada Real Estate Expert

Downtown Las Vegas Nevada Real Estate

Painted Desert Nevada Real Estate Specialist

Pulte Nevada Real Estate

Canyon Gate Nevada Luxury Realtor

Mountains Edge Nevada Realtors

Rhodes Ranch Nevada Short Sale Realtor

The Lakes Nevada Real Estate

Sun City Summerlin Nevada Real Estate Expert

Green Valley Nevada Real Estate

Lake Las Vegas Nevada Luxury Realtors

MacDonald Ranch Nevada Realtors

Silverado Ranch Nevada Real Estate Specialist

Silverstone Ranch Nevada Real Estate Help

Section 10 Nevada Real Estate Expert

Sunrise Mountain Nevada Realtor

Aliante Nevada Real Estate

Traccia Nevada Luxury Realtor

Toll Brothers Nevada Listing Agent
"Experience is Not Expensive...It's Priceless."
* #1 Status is based on production by non-lawyer affiliated Realtors and Brokers from January 1, 2007 through December 31, 2012. The information provided is obtained from public records, it is deemed reliable but not guaranteed. Nevada state law (NRS116.4109) requires sellers to provide and pay for a homeowners association resale package. If you live in a home with one or more HOA's, there may be state mandated fees required to comply with Nevada State Law, and homeowners will be required to provide a buyer with all CIC disclosures. The Myers Team are NOT lawyers, nor qualified to give legal advice of any nature. The Myers Team are NOT accountants, CPA's nor qualified to give tax advice. This web site is not intended to offer legal advice and all information contained in this web site is for information purposes only. All Myers Team clients are encouraged to seek the advice of a real estate attorney, and/or a qualified CPA. All of the information contained in this web site is subject to change. All site software, design, text, images, photographs, illustrations, audio clips, video clips, artwork, graphic material, or other copyrightable elements, and the selection and arrangements thereof, and trademarks, service marks and trade names (the "Material") are the property of The Myers Team™ and/or its subsidiaries, affiliates, assigns, licensors or other respective owners and are protected, without limitation, pursuant to U.S. and foreign copyright and trademark laws. The Myers Team™ hereby grants you a personal, non-exclusive, non-assignable and non-transferable license to use and display, for noncommercial and personal use only, one copy of any material and/or software that you may download from this Site, including, without limitation, any files, codes, audio or images incorporated in or generated by the software provided that you maintain all copyright and other notices contained in such Material. You agree not to reproduce, modify, create derivative works from, display, perform, publish, distribute, disseminate, broadcast or circulate any Material to any third party (including, without limitation, the display and distribution of the Material via a third party web site) without the express prior written consent of The Myers Team™. Use of http://www.NevadaShortSaleInfo.com and/or http://www.VegasShortSaleInfo.com and/or http://lasvegaslist4less.com and/or its licensors' Material is only permitted with their express written permission. You further agree that you will not disassemble, decompile, reverse engineer or otherwise modify the Material. Any unauthorized or prohibited use may subject the offender to civil liability and criminal prosecution under applicable federal and state laws.
SIMPLY VEGAS
3042 S. Durango Drive
Las Vegas, NV 89117